Lord Nelson Inn, Earl Shilton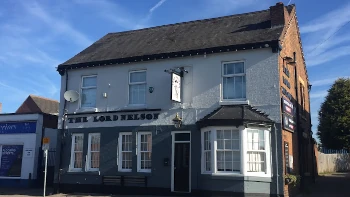 At Lord Nelson Inn, we pride ourselves on providing a fantastic experience for our patrons. Whether you're a sports enthusiast, music lover, or simply looking for a great time, we have something for everyone.
Sports lovers will be thrilled to know that we have three projectors and screens internally, ensuring you won't miss a moment of your favourite sporting events.
Additionally, we have a 12′ external projector and two external TVs, so you can enjoy the games outdoors as well.
Large Beer Garden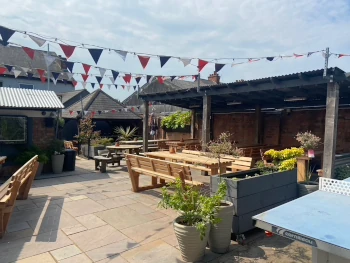 For those who prefer the great outdoors, our large beer garden to the rear offers ample seating and comfortable heated enclosures, perfect for enjoying a refreshing drink in any weather.
Looking to have some fun with friends? We've got you covered. Enjoy a game of free pool, perfect for showcasing your skills or challenging your companions to a friendly match.
We are child-tolerant, making it a suitable environment for adults to unwind and enjoy their time. So, grab your friends and escape to Lord Nelson Inn for a memorable evening.
Late Hours Of Trading Friday and Saturday Until 2.30am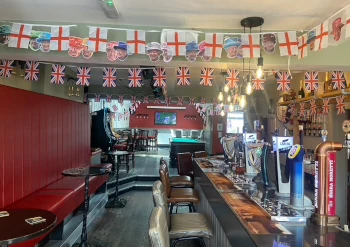 Finally, for those looking to extend the night, we offer late trading hours on Fridays and Saturdays until 2.30 am, ensuring you can make the most of your weekend.
Come and experience the vibrant atmosphere, great entertainment, and fantastic amenities at Lord Nelson Inn in Earl Shilton. We can't wait to welcome you!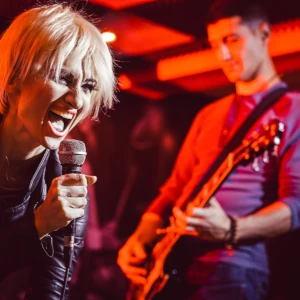 Entertainment
A variety of evening entertainment, Karaoke, Bands, Singers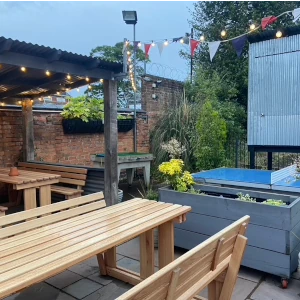 Beer Garden
Large rear garden with ample seating and heated enclosures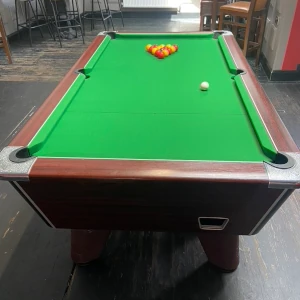 Free Pool
Please come and enjoy the use of our free pool tables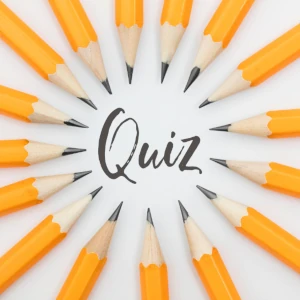 Monthly Quiz
Dirty Bingo, Buzzer Rounds, Spin the Wheel, Prizes, Bangers & Mash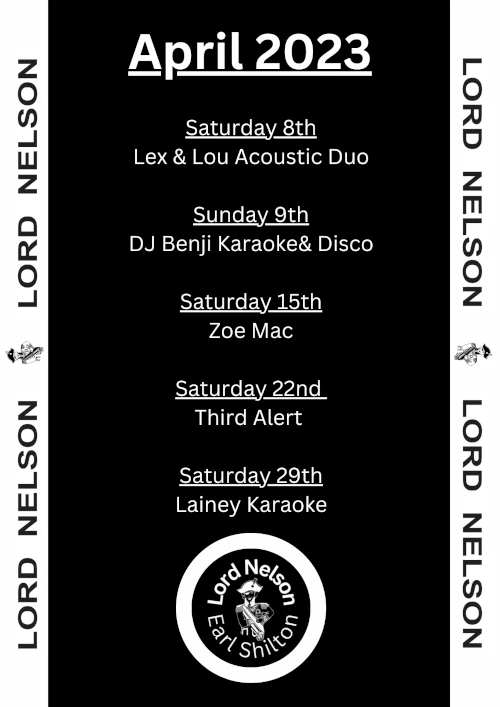 See What Is On This Month …
Join us on Saturdays for some incredible entertainment. We offer a variety of karaoke, live bands, and talented singers to keep you entertained throughout the evening.
If you love a good quiz, make sure to join us for our monthly quiz night. We've got it all, from dirty bingo and buzzer rounds to spin the wheel, all accompanied by exciting prizes. And don't forget the tasty reward of bangers and mash!
Our Teams
Lord Nelson Inn is proud to be the home of two pool teams, one darts team, and a skittles team. If you're passionate about these sports, you'll find like-minded individuals and plenty of friendly competition here. If you would like to join one of our teams, just click the button below and fill in the contact form to let us know!